Garbage Disposal
Question Topic
Garbage Disposal Won't Start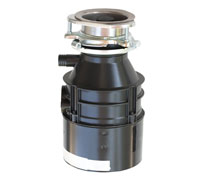 Home-Wizard™ calculates your ideal home care program to avoid problems with your Garbage Disposal, but sometimes trouble can still occur. Here are answers to questions about garbage disposal won't start.

QUESTION FROM Poli V.
My 450 Sinkmaster does not turn on. Is there a restart button on this model since I could not find it?

Thanks.
---

ANSWER FROM HOME-WIZARD
Dear Poli:

My understanding is that the reset button on a Sinkmaster garbage disposal should be located on the underside of the unit.

If the reset button is pressed in, then it has not tripped. If this is the case, then you might want to check your house's fusebox, to see if you have blown a fuse for your disposal. And of course, if you have already, you might want to double-check to see if the electric switch for turning on your disposal if firmly in the "ON" position.

Lastly, if you still have problems finding the reset button, then here's the email address for Sinkmaster: Sinkmaster@sentechsa.com

And please remember, NEVER puts your hands inside of a garbage disposal at anytime.

Hope this is helpful.
Home-Wizard.com