Freezer (stand-alone)
Question Topic
Freezer (Stand-Alone) Condensation Issues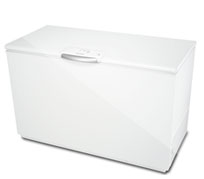 Home-Wizard™ calculates your ideal home care program to avoid problems with your Freezer (stand-alone), but sometimes trouble can still occur. Here are answers to questions about freezer (stand-alone) condensation issues.

QUESTION FROM Marie
My refridge/freezer has condensation forming at the bottom in the middle of the freezer door. Replaced the gasket, no luck.
Any help would be appreciated!
---

ANSWER FROM HOME-WIZARD
Dear Marie:

You mentioned that you recently replaced the gasket on your freezer door, but after it was replaced, did you do the "dollar bill" test on it? To do the dollar bill test you close the door on a dollar bill and then see if when you try to pull the bill out that it holds the bill snugly. You then repeat this for various points all the way around your freezer door. If it doesn't pass the dollar bill test, then you could have cold air leaking out that condenses water when it hits the warmer outside air.

The other possibility is that if your refrigerator has a switch for an energy saver mode, that when it is in the "on" position this feature disables a small heater in your refrigerator that prevents moisture from building up on the outside of the refrigerator. If you are seeing condensation on the outside of your refrigerator, then you may want to try flipping this switch.

Hope this is helpful.
Home-Wizard.com